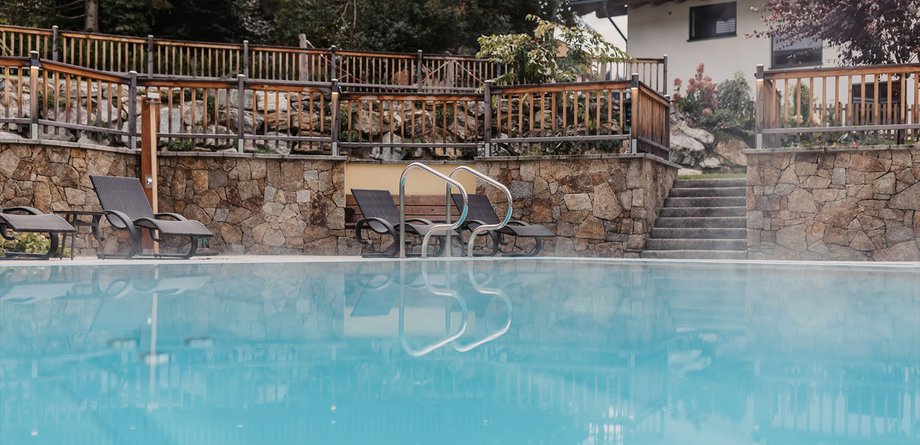 Wellness for
mind and body
You've never been so relaxed!
---
When you're with us, you can really let go. Simply take some time out from your stressful everyday life and treat yourself like you deserve. The fresh mountain air will invigorate you and tempt you to go outdoors. And after your exciting day out, you can relax in our wellness area and sauna. A wholesome massage later, and you will be back to your old self.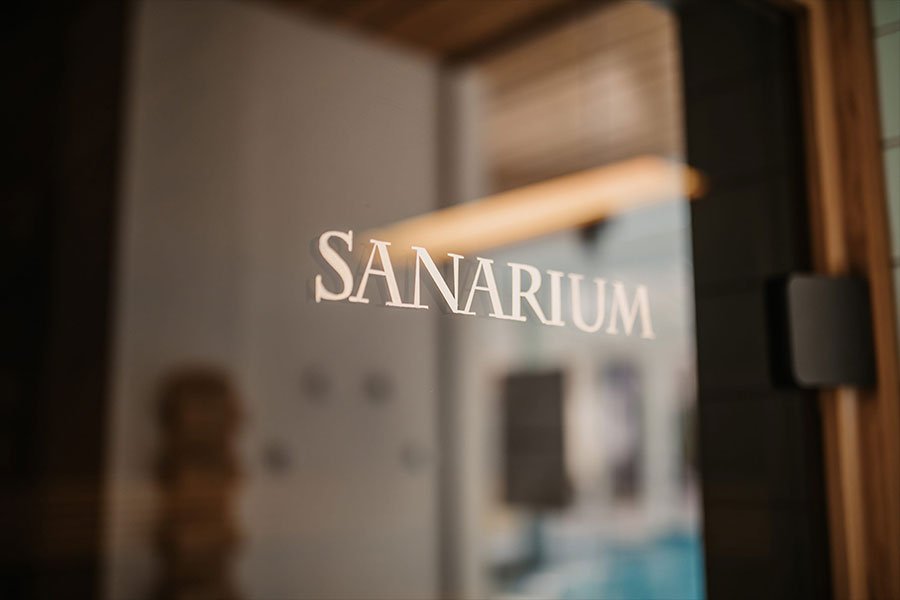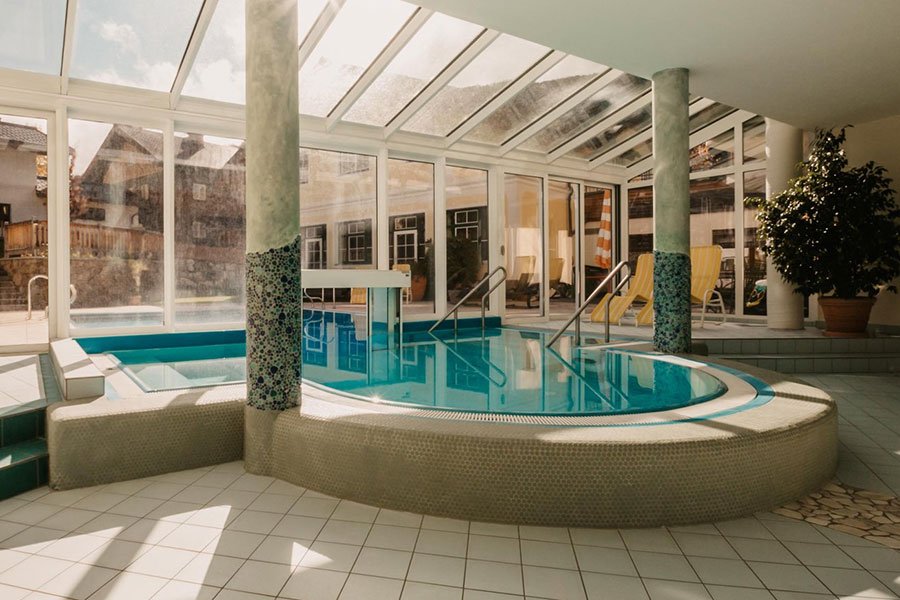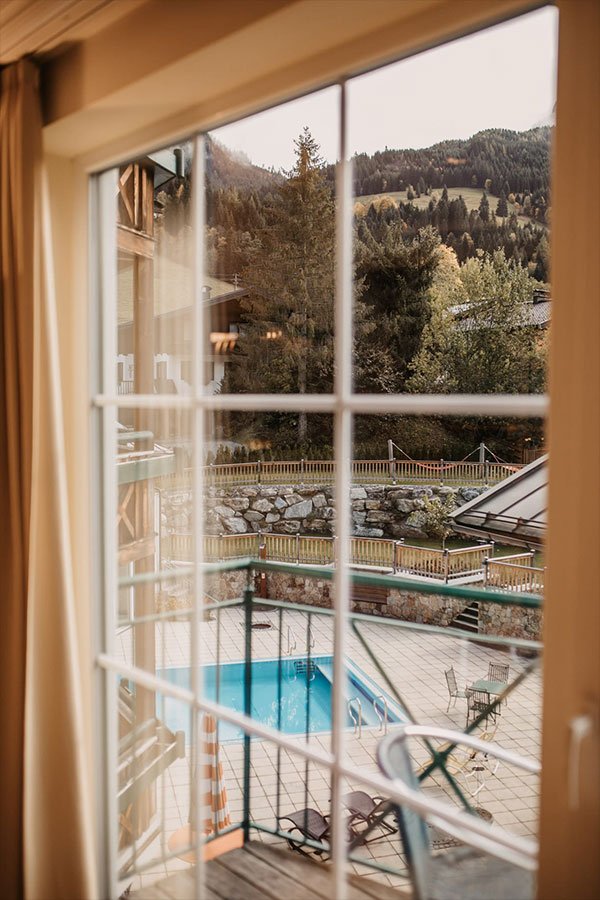 Leave all your cares behind
---
Wellness area with combined indoor/outdoor pool - swim outside in any weather and enjoy the view of the mountains
Sauna facilities including sauna, steam bath, saunarium and relaxation room in a pleasant conservatory style
Relaxation room "Silencium" with waterbeds and floating loungers
Gardens with generous lawns and comfortable sun traps
Our wellness offer to make you feel good
---
Massages and treatments will help you heal your soul and regenerate. They not only promote health but also feel great. Our selection of organic products will do you good both on and under your skin. We are skilled at helping you de-stress and making you feel at ease.
Massagen
Traditional whole body massage
A traditional whole body massage feels good and refreshes mind and body. It will activate your skin functions, stimulate circulation and relax your muscles.
approx. 55 min | € 62.00
Aroma oil massage
Aroma oil massages are an ideal combination of relaxation and the healing effects of specific plants. The oils are combined to match your individual needs. The fine scents of the essences are also soothing for the soul and intensify the effect of the massage.
approx. 50 min | € 65.00
Meridian back-neck-shoulders massage with arnica
This massage technique removes tension through high finger pressure. The aim is to remove muscle knots and muscle hardening. The meridian treatment is suitable for: headaches, dizziness, migraines, joint pain, tennis elbow, lumbago and other pain. Great if you want to reduce negative stress.
approx. 45 min | € 62.00
Massage for painful feet and taut calves
This massage relieves muscle aches and tension. It promotes circulation, stimulates the lymph nodes, and helps with fluid retention and toxin removal. Very relaxing; afterwards you will feel like you are floating on air!
approx. 30 min | € 35.00
Body pack Spa Detox
Cleansing, purifying and stimulating body pack. Marine mud combined with oils will stimulate your metabolism and purify you in a gentle way. It will strengthen your connective tissues and nourish your skin.
approx. 30 min | € 40.00
Alpenquell whole body peeling with mountain salt
A wonderfully relaxing treatment. A refresher for your skin, to make rough skin feel soft, nourish dry skin and smooth out little wrinkles.
approx. 30 min | € 40.00
Traditional part body massage
Great if you are suffering from complaints in specific body parts. This technique uses kneading, stroking and knocking to relieve tension.
approx. 30 min | € 35.00
Calming, balancing children's massage
Children also enjoy a treat. This body massage is designed especially for children.
approx. 30 min | € 35.00
Abbyanga Ayurveda whole
body oil massage
This traditional Abbyanga is a relaxing, detoxifying whole body treatment. The massage with warm sesame oil will drive away all tension and toxins - wonderfully relaxing! Your doshas Vatta, Pitta, Kapha will be reharmonised.
approx. 90 min | € 110.00
Dorn-Breuss back massage with St. John's wort oil
Breuss massage is a gentle but energetic back massage which loosens emotional blockages and regenerates your spine and spinal discs.
approx. 25 min | € 40.00
Ear candles with coloured light
This treatment uses heat reflected inwards to stimulate circulation, activate your immune defences and promote purging lymph circulation. Helps with tinnitus, headaches, stress, sinus infections and sinusitis, and also cleans your ears.
approx. 30 min | € 40.00
Body detox electrolysis bath
It is very important to maintain your body's acid-base balance. Environmental toxins, an unhealthy diet and stress can have a negative effect on your biochemical metabolism. The treatment is great for: headaches, rheumatism and gout, lethargy, skin diseases, circulation disorders, fatty liver, cellulite and excess weight.
approx. 30 min | € 40.00
Treatments
Bioenergetic facial treatment
The best of nature in organic quality from STYX cosmetics. This facial treatment is great for an even, radiant and healthy complexion.
Complexion evaluation, deep cleaning, ozone/steam treatment, peeling, mask, ampoules or serum with coloured light treatment
Serum or ampoule, eyebrow correction
A soft eye massage
Anti-ageing facial massage with precious stones to relieve tension
approx. 80 min | € 95.00
Manicure
approx. 30 min | € 28.00
Pedicure
approx. 60 min | € 40.00
Just book a session by email or at reception.
We prefer cash payments, directly to the Beauty department.